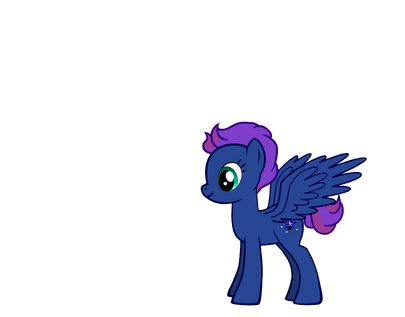 Starlight Altono Heatlight (Born December 17th, 1943) Is A Female Pegasus Living In Darkford, Equestria. She Is The Lead Singer Of Her Band "The Rolling Stars".
Relatives
Stardust Heatlight

(Mother)
Rubber Dash Heatlight

(Farther)
Best Friends
Personality
Starsong Is Mostly A Nice Pony, But She Has Played Some Evil Games, Resulting To Bad Event. She is often very energetic and laughs alot. She has a rather unique tone at various things, and often describes herself as "the most unique".
Voice
Starsong's Voice Is Similar To That Of Twilight Sparkle, But Higher Pitched, Slightly Sweeter, More Pronnounced And Has A Little Country Twang To It. She Often Screams To Add Empisis.
Voice Actresses:
Agnatha Grant (1926-1944)
June Foray (1944-1994)
Tara Strong (1994-2003, 2013-)
Chatanal Strand (2003-2010)
Unknown (2010-2013)
Catchphrases
I Was Born To Sing!
I'm The Only Pony You Ever Need.
You Know That I Like To Make A Big Entrance
Did I Tell You About The Time When [EVENT]
Starsong Never Goes To Sleep
Each Sold Sepperatly, Check Online For Avalibility
Ask A Parent Before Going Online
Ask A Parent 1st
My Little Pony, Skinny And Bony
Friendship Is A Musical Thing, DJ Pon 2 Says So.
My Sister Cadence Almost Married Shining Armor, But Then They Divorsed.
Hey Why You Being So Loud, Anyway I'm Quite Loud.
You All Know That [CATCHPHRASE]
There She Goes Through The Light, Starsong Comes In
Ha Ha Ha Ha
On With The Horn, Off With [ITEM]
I Am The True Princess Of Friendship, Maybe Even The Queen
They Don't Call Me A Little Pony For Nothin, Even Though I [SOMETHING]
My Cutie Mark Is Special, It Lights Up On Special Occasions, Like My Birthday, Also On Starlight's Birthday.
I'm A Pegasus, Are You A Pegasus Too.
They Call Me And DJ Pon 2 The Narrators, Cause We Narrate Alot
Darkford Is A True Place,
I Love [TALKS ABOUT SOMETHING THAT SHE LOVES]
Starlight Glimmer Is My Best Friend
Starsong Is A Chatterbox
Calling All Ponies [EVENT]
I Can Now Confirm That [EVENT]
If I'm Not Incorrect [EVENT]
Don't Stop Looking At Me
It's Called A Winged Unicorn
Stop Calling It An Alicorn, Or I'll Call You An Anaconda.
You Thouht You Could Get Away From Me
I'm Back!
I Never Getaway
You Think You Can Stop Looking At Me, Well You Can't Stop Looking At Me.
Oooh.
Who's Ready To Rock?
I'll Show You
It's A Cascade Of [ITEM]
I Am The True Voice Of Music.
I Am The Voice.
Lay Your Hand In Mine, And [INSERT STRANGE LINE HERE]
Why Do My Song Titles Get Stonen?
Follow The

Code Of Contact

!
It Is Called A "Pegicorn"
Apperances
Main Article: Starsong Heatlight Filmography, List Of Starsong Heatlight And The Rolling Stars Songs